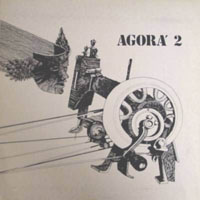 "One of the few professional bands from the Marche, on the Adriatic side of central Italy, Agorà were formed in 1974 near Ancona, and played a jazz-rock very influenced by the likes of Weather Report or the italian group Perigeo, with a very limited use of progressive sounds. Some of the band members had previously been in a rock band called Oz Master Magnus Ltd.
The second album, in 1976, is much more jazz-rock oriented than the first.
The band also played in the 1976 Parco Lambro festival and is featured on the live album released at the time with Cavalcata solare, from their second album and also released on single.
Band decided to split in 1978. For a short time that year Pepe Maina played percussion with them, he's also featured in a concert filmed at Montreux but never officially released. Ovidio Urbani is still now an appreciated player in the jazz field." - ProgArchives
- Roberto Bacchiocchi / keyboards, vocals
- Ovidio Urbani / saxophone
- Renato Gasparini / guitar, vocals
- Lucio Cesari / bass, percussion
- Mauro Mencaroni / drums, vocals
- Nino Russo / saxophone, percussion
1. Punto Rosso (5:29)
2. Pyramid di Domani (6:06)
3. Tall El Zaatar (8:29)
4. La Bottega di Duilio (5:56)
5. Simbiosi (Vasi Comunicanti)(5:33)
6. Cavalcota Solare (8:42)
Links In Comments